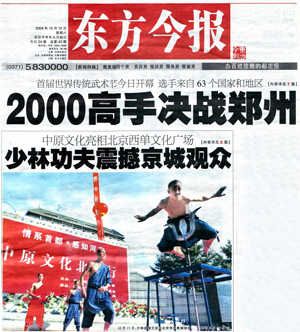 Newspaper advertisement of Zhengzhou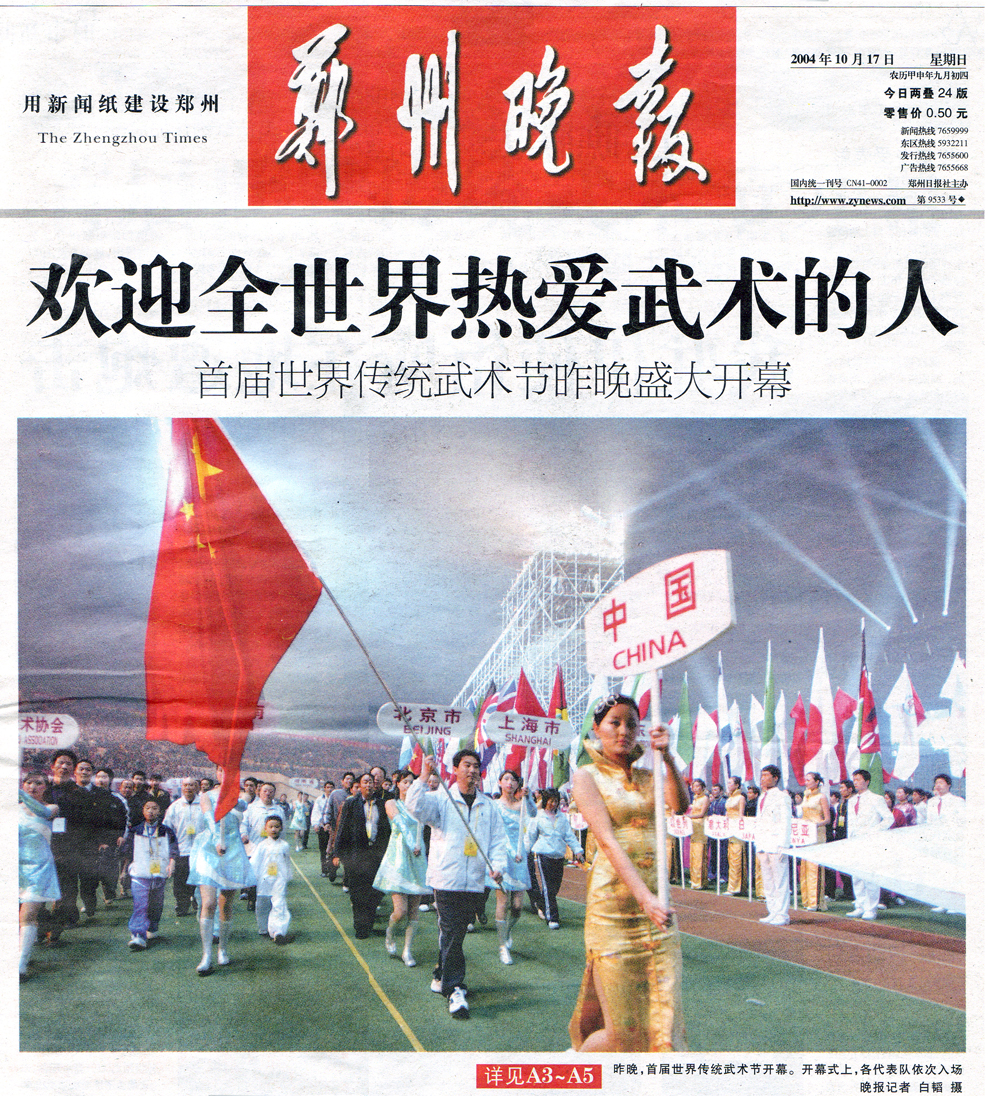 Newspaper advertisement of Zhengzhou
On October 15, 2004, invited by the International Wushu Federation and Chinese Wushu Association, Yip Man Martial Art Association attended the First World Traditional Martial Arts Competition in Zhengzhou. Eleven disciples of our association took part in the competition at their own expenses. Grandmaster Ip Man surely felt gratified with the fact Wing Chun Kuen promoted by him leapt over Zhengzhou and went nationwide. More than 2 thousand Wushu practitioners from over 70 countries participated in the event then. Among numbers of domestic Wing Chun Training organizations in Hong Kong and mainland, our association was the only one engaged in this competition.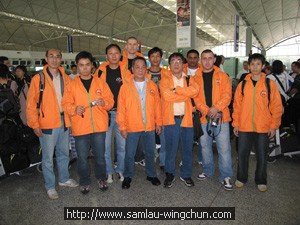 Photo before the Zhengzhou Wushu Competition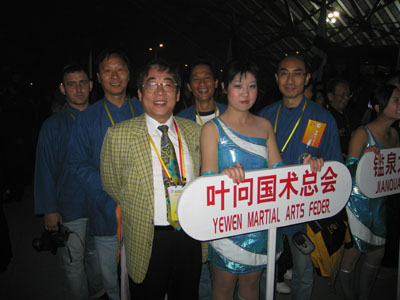 Photo before the Zhengzhou Wushu Competition Chairman of Yip Man Martial Art Association presented the Opening Ceremony of Zhengzhou Traditional Wushu Festival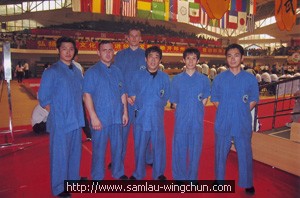 Acknowledged as the only Wing Chun Martial Arts Association from Hong Kong and Chinato participate in the First Zheg Zhou Traditional Kung-Fu Competition held in Oct 2004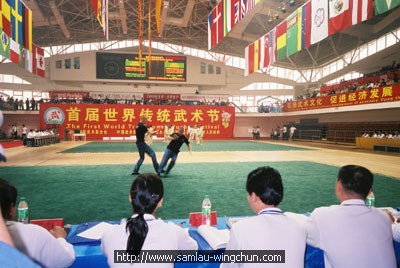 Photo before the Zhengzhou Wushu Competition
Chris Thompson won the silver medal in the competition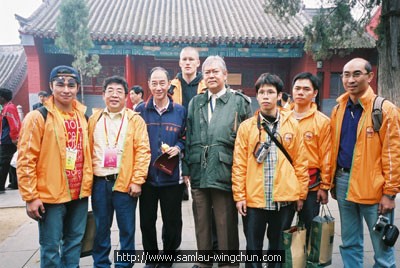 Wong Mo, Liu Kwok Chuen took photo with team members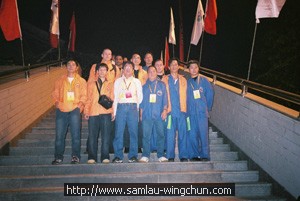 Photo after the Zhengzhou Wushu Competition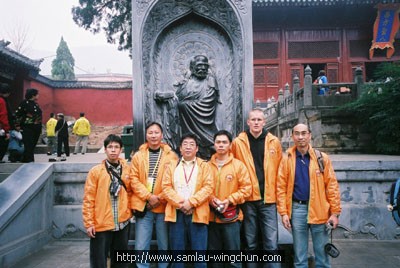 Disciples of Shaolin Temple at the Side Entrance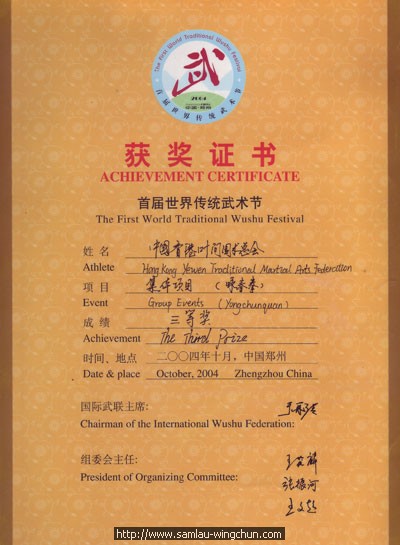 Yip Man Martial Art Association won the third prize in the first World Traditional Wushu Competition
Second visit to the famed Chinese Traditional Wu Shu Capital
Zhengzhou & Shaolin Temple
by Gerald Hung & Felix Hung
In October 2004 our dear Grand Master Sam Lau Kung Sing brought our team of over ten apprentices/disciples and students to join the First World traditional Wushu Championships in Zhengzhou which is same period as last year October 15 – 19 2006.After years of learning Wing Chun from Grand Master Sam Lau this is my first time following him out for competition. After our air plane touched down at the airport of Zhengzhou, members started getting exciting. The convention officials showed their best attention to all delegates from all over the world; starting from the airport assigned at least one volunteer local university student to take care of each team through out till the last day of our trip. Daily three meals and private coaches stand by all the time for all transportation wherever needed. All volunteer representatives worked from 6 in the morning till mid-night everyday and you can always see their smiling faces. The whole town is full of Wushu Festival atmosphere.
Day-1 was for all teams to sign up and checked their schedules, following by a welcome gala dinner and shows.
Day-2 was a full day sightseeing tour to the famous Shaolin Temple. My very first time to the Mount Shaolin Mount Shaolin standing every other 10 feet from the foot of Mount Shaolin lining up all the way up the hill to the main entrance of the Temple when our fleet over 100 coaches passed by.Both sides of the road were full of different flags of the Wushu schools and of course hundreds of Wushu competitions welcome signs.
Day-3 and Day-4 were full day competition from 08:30 to 21:30 held in two gymnasiums with several arenas each. All competitions were graded by 10 referees including minimum two international levels and the rest are national level. We represent Ip Man Martial Art Association – Hong Kong and team members including, Grand Master Sifu Sam Lau Kung-Sing, Assistant Coach: Leung Hin-Ming, one from England Chris Thompson, one from Denmark Stefan black, seven from Hong Kong Kan Sheung-Man, Tam Lai-Chun, Gerald Hung Kim-Ming, Ken Yiu, Alan Lun Yiu-Fai, Sunny Wong Sun-Ip and Fahmi Mohamed Fiaz. We hardly can be all together during day time because all of us joined different competitions and in different age groups. But whenever we are free and as long as we are in the same Gymnasium will try to look after as well as cheered for the one who is next for competition We have joined competitions for singles, doubles, groups and the result was very well.Our team got over ten medals including myself got one silver and one bronze.
October 15 2006 09:00 early in the morning Grand Master Sam Lau Kung Sing (present President of Ip Man Martial Art Association, Colin Ngan S. L.(Legal Advisor), Leung Hin-Ming (Assistant Coach), and team members including : Michael Currigan, Kan Sheung-Man, Jackie Lam Weng-Hong, Alan Chan Lap-Yan, Tse Yung-Keung, Gerald Hung Kim-Ming, Felix Hung Kim-Chung, Fahmi Mohamed Fiaz, Mathew Lam Yung-Tuen, Kitson Mok Kei-Sun gathered at the training school and had a simple but solemn see-off ceremony leaded by Grand Mater Ip Chun (Son of Grand Master Ip Man who formed the Ip Man Martial ArtAssociation with his father, the present director of the Association),Grand Master Chan Wai-Hong ( founder director and present Chairman of the Association). After the ceremony, a private coach took the thirteen of us toairport for flight to Zhengzhou, representing Ip Man Martial Art Association to join the 2nd World Traditional Wushu Championships.
After landed at Zhengzhou airport the representatives of the convention immediate led us to our private coach and transferred us to our accommodation hotel.All teams were taken care by at least one volunteer University student from morning till mid night through out the 5 days competition. Sifu Sam Lau asked me to assist him to take care of the whole team for this trip on the way to the airport. Sifu Sam Lau and I went to register right after checked in the hotel. The rest of the team members followed the volunteer worker – a very nice and attractive lady – Miss Liu Na joining all the welcome dinner, shows and functions according to schedule. Due to some miss communication of the applications which we sent in for registration occurred, many of our competition registrations were missing. Sifu and I went to different departments and negotiated with different person in charge, and finally through the assistant of one of the directors of this event the problems were solved.Our team members could join the competition mostly as planned.Day-2 and Day-3 were whole day competition. Every one of us was a bit tense during our final rehearsals, because we all want to present our best performance for a good result in return.All of us had our own competition similar to last time the singles, dual and group.Results was surprisingly well, our team got 3 gold medals, 4 silvers and 3 bronzes.
During the two days competition we saw a lot of non Chinese delegates in all ages from the youngest 6 years old up to 70 years old really devoted themselves in the Wushu training and no less enthusiasm then the Chinese athletes.We also saw many foreigners stayed in Shaolin Temple and the Martial Art Schools for mastering different Martial Art including all kinds of apparatus and Taichi etc. for short or long term courses. We also aware of we seemed to be the only Wing Chun team in this event.But we did meet quite a number of foreign Athletes from Europe, North and South America and even South Africa who experienced or still learning Wing Chun came up to make friends with us when they knew that we are Wing Chun Students. We exchanged souvenirs, took photos and exchange mailing addresses.
Since Bruce Lee and many Sifu learnt Wing Chun from Grand Master Ip Man and migrated to America and other countries in the early 1960's and started teaching or promoting Wing Chun from that time up to now estimated Wing Chun students in the whole world should be over 5 millions.I wonder when can Wing Chun takes part in the Olympics or Asian Game like Judo, Karate, Taichi or Nan Cheun?
D-4 was a full day trip to Shaolin Temple for sightseeing followed by a fascinating show performed by the Martial art Monks and students in the evening, D-5 all teams went on with their own schedule, some packed and prepare to return home, some went on with their sightseeing in other places in China and our team took domestic flight to Shenzhen because we could not booked direct flight back to Hong Kong.Sifu invited all of us to enjoy a delicious seafood lunch before returning to Hong Kong.
Taking this opportunity, once again, I would like to represent the whole team to thank our Sifu Sam Lau for providing us this precious experience and looking forward to joining again together with more new members in the coming 3rd World Traditional Wushu Competitions.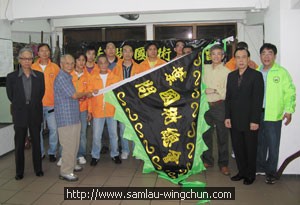 Life President Ip Chun in the Flag Presentation Ceremony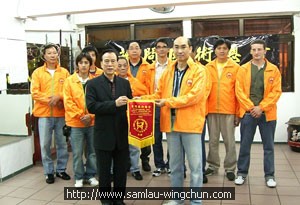 In the stadium before competition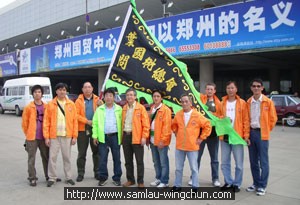 Hung Kam Ming granted an embroidery banner to the master Li Wai Chi
In the indoor stadium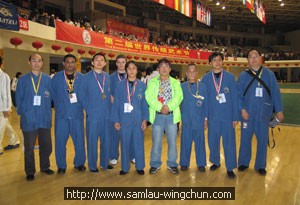 At the airport of Zhengzhou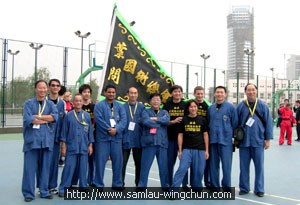 The grand spectacle of the Opening Ceremony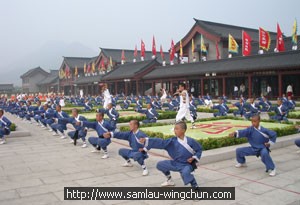 Disciples of ShaolinTemple giving performance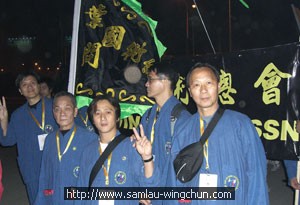 Appearing in the Wushu Festival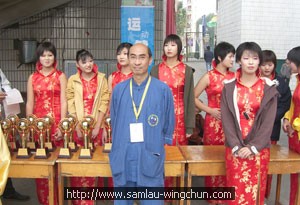 Hung Kim Ming, beauties and cup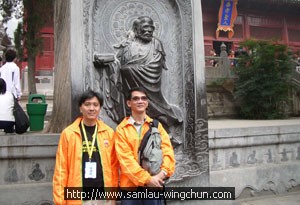 In front of the statue of master Damo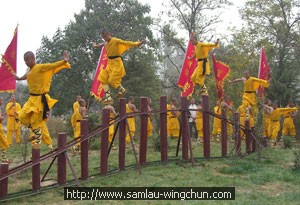 Disciples of ShaolinTemple giving performance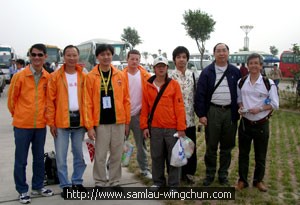 On the way to ShaolinTemple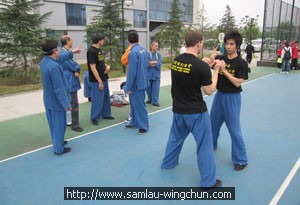 Drilling for competition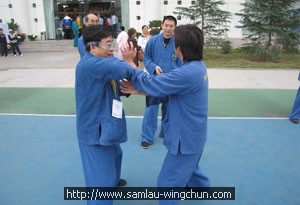 Drilling for competition
Memoirs of a trip to Zheng Zhou
Tse Sihing and I (Alan), represented the Ip Man Wing Chun Association in the second 'World Traditional Martial Arts Festival', in Zheng Zhou, China during October 2006.Although we enrolled to participate in the first festival, we were unable to participate due to business obligations.During the festival, one thought kept on sailing through my mind – "if only I was at the first one!"
On the day of the competition, we arrived at a hotel filled with martial artists from every continent.It was at that moment that I realized our sifu brought us to a truly world class event.
After contacting the local guide, we found out we were to perform the Chum Kiu set and group sparring.The venue was reminiscent of an Olympic stadium.Flags representing different countries were spread across the ceilings and walls.Competitors were scattered around warming up using their style's unique methods -Shaolin, Hung Gar, Tai Chi and Choy lee fut were a common sight.The competition areas were Olympic sized gymnastic areas, matted with green carpets that were under the watchful eyes of 4-5 judges.
The enthusiasm of everyone present was unbelievable.It was obvious that a huge amount of hard work and dedication was put into each and every performance.This was when my nervousness kicked in.We were the only representatives of Wing Chun from Hong Kong, and I felt if my performance was not up to par, I would be affecting the reputation of Sigung Ip Man.
After the judges verified our identity, it was finally our turn to get on the mat.My first impression of the mat was its softness – I was used to practicing the signature pivots and steps of Chum Kiu on solid, concrete floors.I was worried that this would affect my performance.However, I was on the mat and there was no turning back.I took a deep breath, quickly ran over the strict guidelines that sifu made us follow when we practiced Chum Kiu, and hoped for the best.Even after the performance I felt that I was only able to perform at eighty percent of my ability, but what was done is done.At the end of the day I was very surprised to find out that I won a silver medal in my category!It must have been sifu's strict tutelage that I was able to achieve this!
The second day of competitions coincided with sifu's birthday.As my and my Sihings were preparing to step on the mat for our group sparring demonstration, sifu suddenly decided to take part in the demonstration, walked on the mat, and decided to have a 3 on 1 demonstration instead.Jacky sihing and ourselves were the one attacking, and sifu was the one defending.This was completely unrehearsed, and upon commencement, sifu stepped past Jacky and striked me preemptively.As I was gathering myself, he used me as a shield against Jacky and Tse Sihing. Tse Sihing tried launching a high front kick at sifu, who countered with a tan-da entry technique which left Tse Sihing sprawled on the ground.In the blink of an eye sifu was on me again with what I think was a Lap da technique.After he finished me Jacky was just in range for an attack.With only Jacky left sifu focused his efforts on him.Fortunately for Jacky, the exchange only lasted for a few seconds, but those few seconds were an exchange of traditional wing chun techniques.The spectators applauded enthusiastically as the demonstration came to an end.Perhaps because the judges felt that our performance demonstrated the devastating effectiveness and simplicity of wing chun, we were awarded a gold medal for our demonstration at the end of the day.
In the evening, we were in a most famous Chinese restaurant to celebrate Sifu's birthday,the Canadian president Mr. Deng Hua and Venezuela president Mr. Chen JinHui were alsoinvited. We enjoyed the most delicious Chinese cuisine, X/O and beer.
After dinner, "old horse" Fiaz suggested to the karaoke night club (Golden Bright Karaoke ). Unexpectedly, Sifu wasn't only great in ku fu, he could sing romantic English songs with high applaud from all the apprentices and guests. After a few beer and drinks, with nice ladies as companionship, we sang the love songs and enjoyed the most pleasant atmosphere. Perhaps expatriate Michael is quite heavily built, all the ladies may be scared of him so that he was rather difficult to find a good partner. "Fiaz" was very nervous too with sparkled eyes as he could not find his female partnership, after we have the birthday cakes and wishing our Sifu "Happy Birthday and good health" he left alone for sauna/massage, the remaining guests enjoyed the party very much till midnight.
This trip was truly unforgettable.Decades from now when our children and grandchildren speak of this event, I'd be able to tell them exactly what happened, and tell them what an amazing experience it was.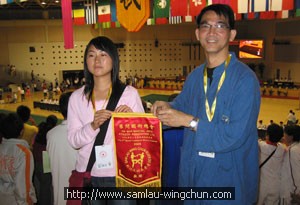 Mok Kei Sun granting presented memorial flags topressmen accompanying the team
Collective photo after prize granting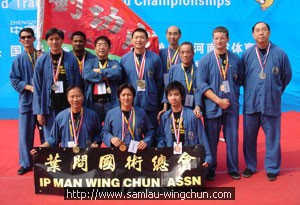 Collective photo after prize granting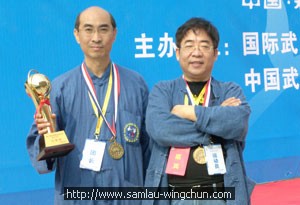 Photo of Hung Kam Ming colonel and the master
Collective photo after prize granting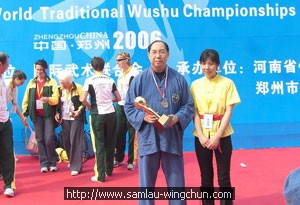 Collective photo after prize granting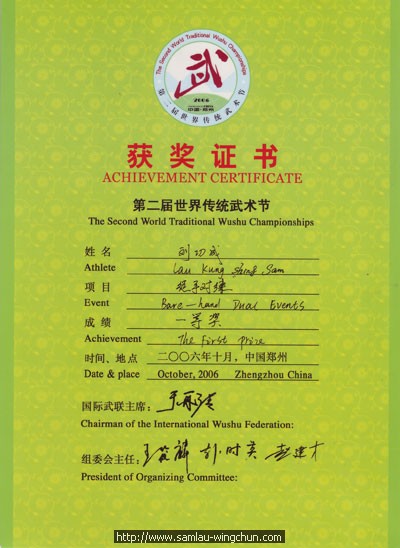 Master Lau Kung Shing won the first prize in the Second World Traditional Wushu Festaval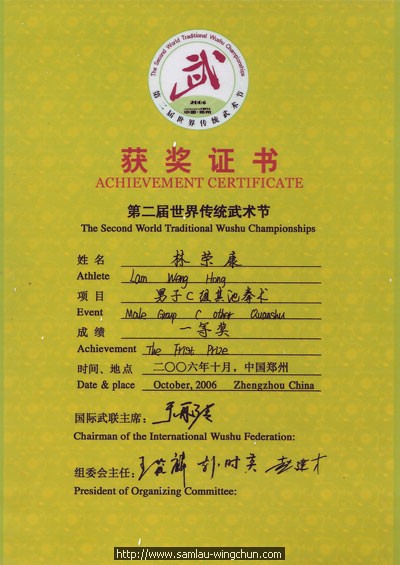 Learner Lam Wing Hong won the first prize in the Second World Traditional Wushu Festaval

Learner Lam Wing Hong won the first prize in the Second World Traditional Wushu Festaval

Learner Chan Lap Yan won the first prize in the Second World Traditional Wushu Festaval
| About us | Moonlight Dragon | Wushu Festival | Wingchun Performance | Dragondance Training |

| Photos | Curriculum Schedule | Instructor Training Course |